Do you need plumbing repair in Little Rock? Our professional plumbers from Airmasters are standing by to help. Just give us a call and we will be on our way to you soon!
Why Choose Us for Your Little Rock Plumbing Repair
At Airmasters, we are proud to handle your Little Rock plumbing repair. People love us because:
Our upfront pricing and financing options
We treat your home as if it were our own
Our licensed techs are knowledgeable and friendly
We're available 24/7 for emergencies
We put our customers first, always
Signs You Need Little Rock Plumbing Repair
You may need to call a professional plumber for plumbing repair in Little Rock if:
You don't know how to fix your plumbing
Your plumbing issue is impacting your everyday life
You have tried to fix your plumbing problem without any luck
Your home is being damaged because of your plumbing problem
You can't use all or part of your plumbing because of the problem
Emergency Plumbing Little Rock
You may need emergency plumbing in Little Rock if your plumbing problem is causing major damage and you can't stop it. If this happens to you, give us a call and we will be there soon. We offer 24/7/365 plumbing repair because we know that some issues just can't wait!
Leaky Pipe Repair in Little Rock
If you have a leaky pipe you could be losing a lot of money! Even if the leak is small, those drops add up and they may add up faster than you think! Call us as soon as you realize you have a leak to get your Little Rock plumbing fixed fast.
Toilet Repair in Little Rock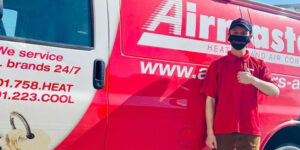 If you can't use your toilet or it's leaking and causing your water bill to rise, call us right away. We'll find the problem with your toilet fast, then fix it and make sure everything is working before we leave. Reach out now to get your toilet working again soon.
Little Rock Plumbing Fixture Repair
Do you need help with a Little Rock plumbing fixture repair? If your faucets, sinks, tubs, showers, toilets, or other parts of your system aren't working, just give us a call. We'll be there soon to find the problem and repair it as quickly as we can. Don't settle for a house that doesn't work the way you need it to!
Call For Little Rock Plumbing Repair Today
Don't put off plumbing repairs in Little Rock! Instead, bring in our professional team from Airmasters to get the issue resolved fast. Our plumbers in Little Rock will be there soon and we will work hard to get your plumbing running the way you need it to again as quickly as possible.